2011-2012 HillBook (Class of 2015)
[ARCHIVED HILL BOOK]
2011-2012 HillBook (Class of 2015)
---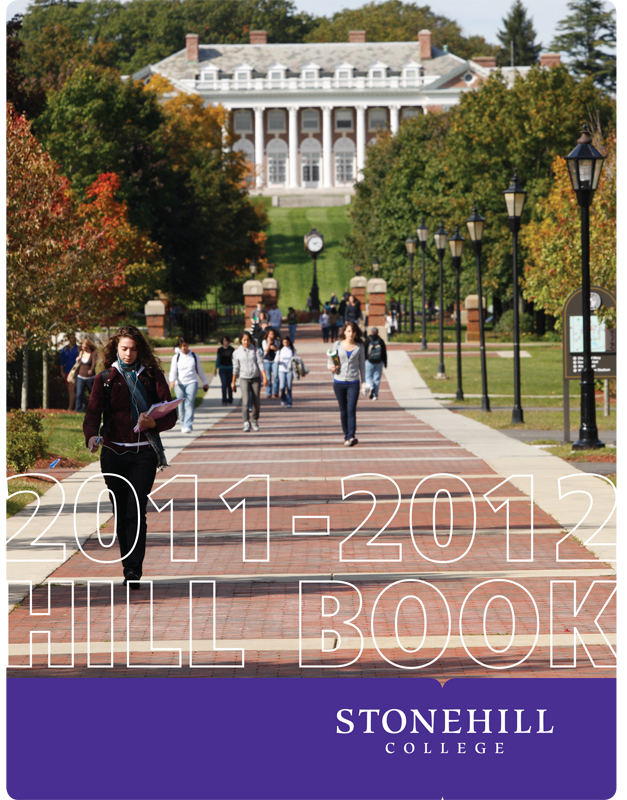 The on-line Stonehill College Hill Book serves as both a Catalog and Student Handbook which contains useful information about the College, including academic programs, degree requirements, course offerings, academic calendar, admission and financial information, Student Life information, and College academic policies and community standards.
The 2011-2012 Hill Book is considered the source for academic and programmatic requirements for students entering the College during the Summer 2011, Fall 2011, and Spring 2012 semesters.
The Hill Book is published for information purposes only and does not constitute a contract between the College and any student, or other person, or application for admission. The policies and information that appear in The Hill Book were in effect at the time of its publication. The College reserves the right at its discretion to make changes, additions or deletions to any matters covered in The Hill Book. Whenever it does so the College will endeavor to give advance notice, but it reserves the right to make a change effective immediately. The College publishes the official version of its Policies and Procedures on the College's web site.

Founders
The Congregation of Holy Cross, a Catholic community of Priests and Brothers, as an independent, Church-related institution.
Accreditation
New England Association of Schools and Colleges which accredits schools and colleges in the six New England states. Membership in the Association indicates that the institution has been carefully evaluated and found to meet standards agreed upon by the qualified educators.
Stonehill College supports the efforts of secondary school officials and governing bodies to have their schools achieve regional accredited status to provide reliable assurance of the quality of the educational preparation of its applicants for admission.
American Chemical Society (ACS)
Association of University Programs in Health Administration; Full Certification
Membership
Association to Advance Collegiate Schools of Business (AACSB International)
Association of American Colleges and Universities (AACU)
Association of Catholic Colleges and Universities (ACCU)
The Council of Independent Colleges (CIC)
National Association of Independent Colleges and Universities (NAICU)
Southeastern Association for Cooperation of Higher Education in Massachusetts (SACHEM)
Southern New England Consortium on Race and Ethnicity (SNECORE)
---