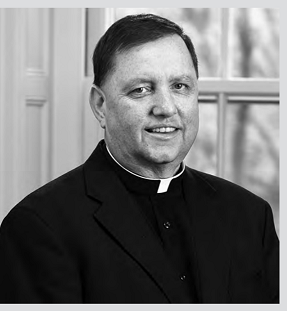 Dear Stonehill Students,
In welcoming you to Stonehill College, I hope that your time with us will be one of active participation in the academic and social opportunities present on our beautiful campus and beyond.
The Stonehill community is blessed with many hard-working and supportive faculty, administrators, staff, alumni, and fellow students, all of whom play a large part in your Stonehill education.
All of us are aligned around an important motivation that is articulated in our mission statement:
Stonehill College educates the whole person
so that each Stonehill graduate
thinks, acts, and leads with courage
toward creating a more just and compassionate world.
The academic and interpersonal choices that you make during your time here will help you achieve the aims of our shared educational purpose. To help you plot your course through Stonehill, we present "The Hill Book" as a guide to living and learning at Stonehill. It combines the academic catalogue – which helps you select your course of study – with the student handbook – which provides guidelines, regulations, and policies for each member of our community.
I trust that your experience at Stonehill will be a time of growth and discovery. Your professors and others will invite you to enter the academic enterprise. In addition, persons and ideas will challenge – for the better – the way you think and what you believe. Learning will occur not only in the classroom but also in the residence halls, on athletic fields, and in service. I encourage you to take advantage of all the opportunities presented to you during your time at Stonehill. As an alumnus of Stonehill, I know that they will remain with you for a lifetime.
As a member of the community, you have chosen to accept and abide by the high expectations Stonehill has set for how each member lives, learns, and interacts with one another. We expect and encourage you to take ownership of your own academic, intellectual and spiritual development. And we will challenge students to be accountable for their actions as a necessary part of community life and preparation for responsible citizenship in the wider world.
Remember, all the members of our community are eager to assist you in every possible way. Do not hesitate to ask for advice or direction. Again, welcome back to Stonehill and know that you will be in my thoughts and prayers as we journey together during this academic year.
Sincerely in Holy Cross,
(Rev.) Mark T. Cregan, C.S.C. '78
President